Life is fun for our four-legged friends at AIRE. We've paid attention to all the little details with pets - and pet owners - in mind! Our spacious, open floor plans offer lots of room for your canine or feline roommate to roam, and floor-to-ceiling windows make for the perfect spot to catch a midday nap in the sun.
Whether it's a place to take that daily walk or somewhere to enjoy some downtime together, all kinds of great amenities are provided on-site and are easily accessible throughout AIRE to make sure your pet feels at home.
With nearby open spaces including River Oaks Park, Moitozo Park, and Thamien Park, as well as an on-site dog park, your best friend will have no trouble finding a place to make new acquaintances and enjoy the fresh air. At AIRE, we've crafted a luxury experience for all our residents - people and pets alike!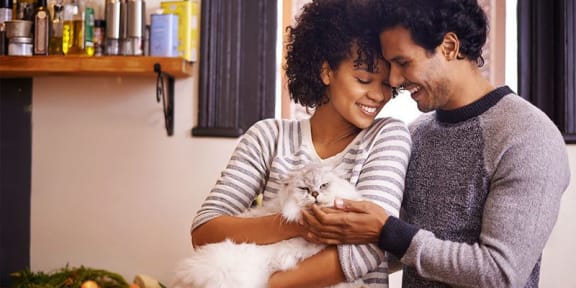 Ever since I moved in, I had great experience with leasing office staffs and Maintenance team. Apt itself is clean and modern.

- Verified Resident
What an Amazing place. The office staff is so helpful and polite and the maintenance team is unmatched in quality. I highly recommend you live here!

- Verified Resident
If I could give this place more than 5 stars I would! This complex is so beautiful inside and out. The community is clean and safe. The leasing team was outstanding, especially Jack, he answered all of my questions and was extremely attentive and went above and beyond.

- Verified Resident
Hands down one of the best apartment complexes I have lived in! Its serene location and the high degree of maintenance for cleanliness and amenities make for very comfortable living. The staff here are friendly and respond to any questions or concerns promptly.

- Verified Resident
This is an AMAZING place to live. Honestly the best place I have lived. The office staff is awesome.

- Verified Resident
This property is very modern nice and clean. The apt is super comfortable and homey. The stuff members were very helpful kind and professional. I love it here highly recommend

- Verified Resident